Debt Relief Should Be Greece's Parting Gift
Europe should help Athens on its way out the door.
by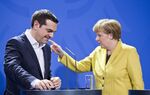 Thomas Piketty, the French economist whose book "Capital in the Twenty-First Century" took the world by storm last year, is back in the spotlight as Greece teeters on the edge of bankruptcy's abyss. Germany, Piketty argued in a recent interview with Die Zeit newspaper, "has no standing to lecture other nations" because it is "the country that has never repaid its debts."