Why the Euro Is Failing
Everyone in Europe's currency union has resisted making hard choices.
by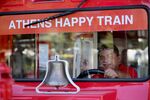 Greece's government seems determined to incur the world's blame for the emergent economic turmoil in Europe. Mark Gilbert summed it up accurately for Bloomberg View: "The nation's stubborn contradictory stance -- yes to the euro, no to the conditions of continued membership -- isn't consistent with the euro's future well-being."