Greeks Have Voted, Now Kick Them Out
A new deal with Greece would set a bad example for aspiring EU members.
by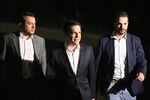 Greece has voted overwhelmingly against a compromise that would have allowed Europe to continue financing it. Now it must be forced out of the euro area and perhaps from the European Union -- otherwise everybody will demand the same no-strings deals, and aspirants from Eastern Europe will want to join the bloc for all the wrong reasons.
Greek Prime Minister Alexis Tsipras did his best to convince the Greek people that voting "No" to a fiscal plan proposed by the country's creditors would strengthen the government's hand in fresh negotiations. "Today we celebrate the victory of democracy," he tweeted after it became clear the vote had gone his way. "Tomorrow, we will all continue our national effort to reach an agreement."
As part of that effort, Tsipras even asked Finance Minister Yanis Varoufakis, who had proved unable to establish rapport with the creditors, to resign. "Soon after the announcement of the referendum results, I was made aware of a certain preference by some Eurogroup participants, and assorted 'partners', for my… 'absence' from its meetings; an idea that the Prime Minister judged to be potentially helpful to him in reaching an agreement," Varoufakis wrote on his blog.
European leaders will be sorely tempted to swallow the bait. Neither German Chancellor Angela Merkel nor French President Francois Hollande would like to be remembered as the leaders who failed to keep the European monetary union, or perhaps even the EU itself, together. After all, even the International Monetary Fund considers Greece's debt unsustainable, so why hold on to the illusion that it can ever be repaid in full? Why not cut it in exchange for a commitment from Tsipras that he will reform the country's economy to make it more self-sufficient?
Besides, there's the geopolitical angle to consider. The U.S., concerned that failing to keep Greece satisfied would ruin the European consensus on sanctions against Russia, has lobbied Merkel to find a way to keep Greece in the euro. Greece is a North Atlantic Treaty Organization member protecting the alliance's southern flank, where Russia has been active lately, and Tsipras has been well-received in Moscow.
Related: Greece Default Watch
Jan Dams spelled out that argument in the German daily newspaper, Die Welt. Merkel, he wrote, can convince her domestic audience only by saying firmness with Greece was strengthening the euro area and warning others against taking Greece's path. "Everywhere else people will say to that: Europeans have failed to solve the Greek problem, meaning Merkel has failed," Dams wrote. "And they will ask themselves: How will they handle the Westernization of Ukraine, where they have a much stronger opponent in Vladimir Putin?"
Working out a compromise can be spun like the statesmanlike thing to do. It's not.
It's important to understand why the eastern members of the euro are among the strongest opponents of bending to Greek demands. The easy way to explain that is jealousy: Greece has been getting aid to maintain a higher living standard than these countries have. To add insult to injury, their per capita exposure to Greece is higher, in comparison with their voters' average incomes, than that of Germany and France:

That, however, is not the real reason.  These countries have had to bend over backwards to satisfy the requirements of the monetary union, after already  struggling to meet the EU's increasingly exacting standards for membership just a few years ago. All Greece had to do to get into the euro was lie about its budget deficit.
"Rejection of reforms by Greece cannot mean that they will get the money easier," Slovakian Finance Minister Peter Kazimir tweeted after the Greek vote results came in.
If EU leaders bow to Greek demands, the double standard would also be obvious to the voters and ruling elites of EU membership candidates such as Serbia, Montenegro, Macedonia and Albania. It would be equally  evident to Ukraine, which is still fighting a war for the sake of a hazy prospect of EU accession. 
In Ukraine, the Greek crisis has been covered without much sympathy for Greek pensioners struggling to survive on 600 euros per month. This is more than members of Ukraine's new police force, expected to be less corrupt than the old one, are paid. As part of its $17.5 billion IMF bailout -- dwarfed by Greece's -- Ukraine is raising energy tariffs and cutting pensions, something the Tsipras government has fought tooth and nail.
"This year, our responsible and effective policies have consolidated the entire world's help and solidarity around Ukraine," Ukrainian President Petro Poroshenko said in a recent televised address. "Greece has found itself in isolation due to its less than responsible behavior when it tried to blackmail the European Commission."
If Tsipras now succeeds in getting more money out of Europe, it will show countries such as Ukraine that honest effort doesn't pay. They will know that the EU's membership decisions are political rather than rule-based.
This clear case of moral hazard is also dangerous to vulnerable countries inside the EU such as Spain, whose government, like the east Europeans, favors a tough line on Greece. A Tsipras victory would encourage similar populist forces in other southern European countries and give voters a reason to back them.
You can vote your debts away, as many countries have done by supporting governments that subsequently defaulted. You shouldn't be able to vote for other people to pay you more. If that's what results from Sunday's vote for Greece, it will be an absurd lesson to the rest of Europe, both within and outside the EU.
This column does not necessarily reflect the opinion of Bloomberg View's editorial board or Bloomberg LP, its owners and investors.