Tsipras's 'Occupy Greece' Tactics
He runs the country like a giant student protest.
by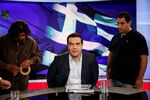 Greek Prime Minister Alexis Tsipras's abrupt turnabouts, flashes of anger and sudden outbursts of inflammatory rhetoric appear irrational, causing the serious men and women who represent Greece's creditors to mistrust him profoundly. Everything falls into place, however, if one accepts that Tsipras is not running the Greek government: He's occupying it, the way protesters occupy a public building.