When CEOs Are Accidentally Overpaid
A researcher finds surprising reasons for sky-high executive pay.
by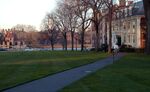 Why are chief executive officers paid so much? Although skyrocketing CEO pay is not a substantial factor behind the increase in income inequality, it is certainly startling. The average U.S. CEO now makes about 350 times what the average worker makes. That means CEOs typically make in one day what their employees make in one year.