No, the U.S. Won't Follow Greece Over the Cliff
American fiscal policy is flawed. But it's not that flawed.
by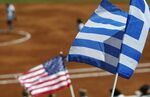 Every time Greece is in the news, I hear mutters about how Americans need to look hard at what happens, because if we don't get our act together, we're headed for the same fate. And every single time, I think "No, that's really not quite right." I could dismiss the muttering, but this time it's louder, including from Bobby Jindal: "Greece will happen here if we do not change course. Anyone who disagrees with this is a 'math denier.'"