Is Anyone Ready for a 'No' Vote in Greece?
Greeks might face a humanitarian catastrophe with nobody in charge.
by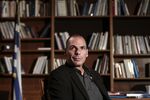 Yanis Varoufakis says he'll quit as Greece's finance minister after next weekend's referendum if the electorate votes "Yes" to the bailout conditions demanded by the nation's creditors. If there's a "No" vote, he also says he'd "prefer to cut my arm off" than sign an agreement that doesn't include debt restructuring. All of which suggests that, come next week, he could either be jobless or one-armed -- because his accompanying assertion that a more palatable deal can be completed within "one hour" is the stuff of fantasy, and without some kind of deal Greece's money will simply run out.