Who's Afraid of the Women's World Cup?
Media's lame excuses for undercovering women's sports.
by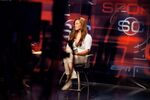 As the women's soccer World Cup has built to a climax, so too has the debate over the lack of coverage of women's sports in the U.S. Despite new empirical evidence that women's sports remain widely ignored on television, some still insist that calls for increased coverage are just whining, arguing that the market has spoken and we should be happy with whatever coverage we have.