Editorial Board
Did Obama Just Give You a Raise?
Not necessarily -- and his overtime pay expansion will be a burden on businesses.
by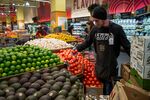 President Barack Obama has plans to expand workers' entitlement to overtime pay. The move may be good politics -- putting Republicans in an awkward position and making nice with Democrats opposed to his free-trade agenda. But it isn't going to do workers much good.