Rousseff and Obama Need Each Other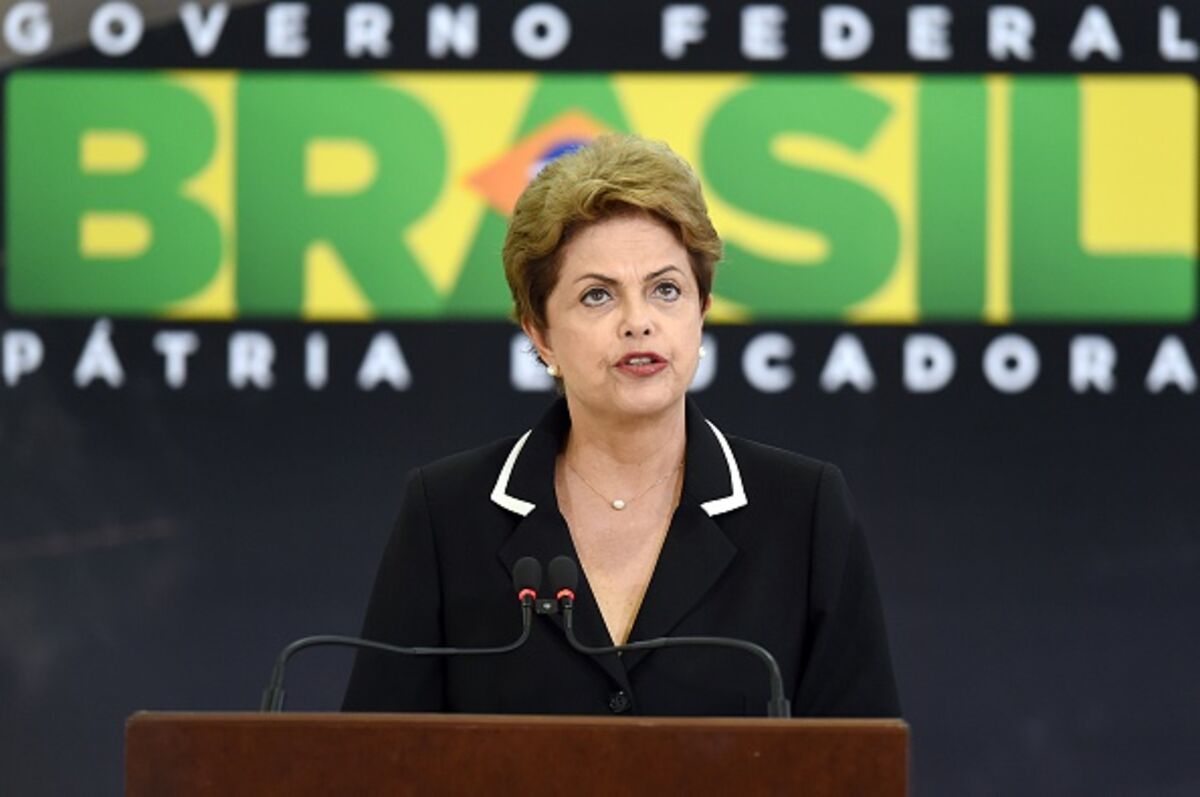 She could use a hand from the U.S.
Photographer: Evaristo Sa/AFP/Getty Images
Brazil's President Dilma Rousseff is in the U.S. this week, and she might be glad for the change of scenery. Back home, the economy is in recession, the government is beset by corruption, and her approval rating stands at a dismal 10 percent.
QuickTake Brazil's Highs and Lows
So Rousseff has a lot to gain from a successful trip, whose schedule includes a joint press conference with President Barack Obama on Tuesday. What's less obvious, but no less true, is that the U.S. has much to gain as well.
Admittedly, the background to this effort to strengthen relations isn't promising. Decades of miscues and missed opportunities belie happy talk of shared DNA between two postcolonial continental powers proud of their pioneer spirit, democracy and diversity. Even before Edward Snowden's 2013 revelations that the U.S. was tapping Rousseff's cell phone, you could see her discomfort during a meeting with Obama in 2012. It can't be easy to bond with the leader of a country that supported the regime that tortured you.
What's changed lately? A few things.
Obama's opening to Cuba has removed an ideological obstacle to closer cooperation throughout the Americas. Low-key U.S. diplomacy in some of the region's trouble spots and high-level attention to Brazil from the likes of Vice President Joe Biden haven't hurt, either. And the miasma of the Petrobras scandal has given Brazilians an appetite for anti-corruption crusades: America's bold investigation into corruption in international soccer has been widely praised in Brazil.
In addition, Rousseff is more motivated than before: She badly needs a win. Brazil's fiscal and economic mess is due to her misguided policies, which made the end of a decade-long commodities boom even more painful.
To help fix things, she recently recruited a more pro-market finance minister, Joaquim Levy, and other senior officials. They're eager to strengthen economic ties with the U.S., one of Brazil's biggest trading and investment partners. This week, Rousseff hopes to attract U.S. investment in $64 billion worth of infrastructure projects. If she brings home some money, a few White House selfies, and progress on trade, visas and academic exchanges, her fortunes at home might improve.
Helping her out also makes sense for Obama and the U.S.
First, the U.S. and Brazil both want December's climate-change summit to succeed. Brazil could make a big contribution by clarifying its plans this week for further reducing emissions. Obama could rightly praise the progress Brazil has already made and announce expanded cooperation with Brazil on biofuels and clean-energy technology.
Second, the U.S. can benefit from closer diplomatic cooperation on Cuba, which needs to be nudged along the path of reform, and Venezuela, which needs to be pulled back from the brink of economic self-destruction and outright despotism. Here the U.S. administration must move cautiously: Quiet diplomacy is most likely to succeed.
There are more opportunities for mutual advantage. Expect several agreements to spur two-way trade and investment. Other promising initiatives include a pact enabling the U.S. to use Brazil's space launch facilities. Obama could even signal support for Brazil's global ambitions by endorsing its quest for a permanent seat on the United Nations Security Council -- a role first envisioned for it by Franklin Roosevelt.
If Rousseff really wants to shed Brazil's image as the perpetual country of tomorrow, the challenge rests with her. Most of all, Brazil needs far-reaching economic reforms to raise productivity, clean out the tax code, dismantle suffocating local-content rules and modernize labor regulations.
None of this can be done quickly. Nonetheless, warmer relations with the U.S. would help, and this week's meetings can be a start.
To contact the senior editor responsible for Bloomberg View's editorials: David Shipley at davidshipley@bloomberg.net.