Greece's Next Step: Overdue Debt and IOUs
Without cash to pay its bills, the government will move closer to leaving the euro.
by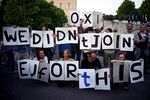 Greece's dramatic decision to close its banks and impose capital controls has averted -- at huge cost to the economy -- a bank run and limited the flight of euros out of the country. A perilous week still remains ahead.