view
Financial Markets Call Greece's Bluff
Athens badly misjudged its ability to scare the rest of Europe.
by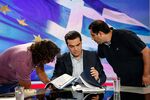 The first rule of Fight Club, as we learned in the eponymous movie, is that you don't talk about Fight Club. The same principle applies, more or less, to membership in the Euro Club. So it's a bad sign for the poor citizens of Greece that Europeans have stopped paying that rule much heed.
On June 22, Belgian Finance Minister Johan Van Overtveldt revealed that capital controls for Greece were being discussed; days later, in they came, closing the country's banks. Monday, European Central Bank board member Benoit Coeure told France's Les Echos newspaper that "the exit of Greece from the euro area, which was a theoretical point, can unfortunately no longer be ruled out." And Tuesday, Spanish Prime Minister Mariano Rajoy suggested the irreversibility of euro membership might not be quite so irreversible after all.
Prime Minister Alexis Tsipras seems to have badly misjudged how fearful the guardians of the euro are of the consequences of Greece exiting the common currency. "They will not kick us out of the euro zone," he said in an ERT TV interview on Monday. "Let me explain why, because the cost is immense."
Related: Greece Default Watch
There's one problem with that analysis: It turns out the cost to the rest of the euro region is absolutely minimal, at least thus far. A post-Greece euro looks to be a lot better off than a post-euro Greece does. The euro remains poised to deliver its best quarterly performance against the dollar in four years -- hardly the spectacle of a currency that's about to shatter:

In the bond markets, meantime, the places where you'd expect to see contagion remain pretty relaxed. Check out this week's increase in Spain's 10-year borrowing cost relative to that of Germany, and compare it with what happened in 2011, when Greece last threatened a referendum that might lead to its departure from Europe's economic and monetary union:

German Finance Minister Wolfgang Schaeuble said in a television interview on Monday with Germany's ARD that "the Greek government's behavior has been beyond belief." Even so, he said, "it won't be able to destroy Europe." So far, he's right.
To be sure, that could all change rapidly after this weekend's referendum, which the European Commission insists has to be a vote on whether Greece stays in the euro or not. But for now, financial markets are effectively calling Tsipras's bluff -- which might help to persuade him to swallow his pride and return to the negotiating table.
To contact the author on this story:
Mark Gilbert at magilbert@bloomberg.net
To contact the editor on this story:
Cameron Abadi at cabadi2@bloomberg.net
Before it's here, it's on the Bloomberg Terminal.
LEARN MORE