Tourism's Resilient Fantasy
Popular destinations have learned to recover quickly, even after terrorist attacks.
by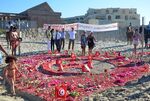 The twin shocks of the massacre in Tunisia and the financial meltdown in Greece have sent tourism shares sharply lower. The industry has grown increasingly resilient in recent years, however, and it probably will recover relatively quickly. That would be good news for shareholders, but it could also reflect a false sense of complacency.