The Macro Funds' Big Greek Gamble
This week may determine winners and losers.
by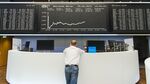 Markets around the world start the week bracing for trouble as Greece spirals further into crisis. Can the country avoid a full-blown default? Will there be a Grexit? Will it stay in the euro zone and keep the single currency? It all looks like an unknowable gamble.