LeBron's Contract Crossover Is Good for Cavs
A fake breakup gives the player money and the team flexibility.
by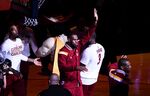 LeBron James has opted out of his contract, and Cleveland Cavaliers fans might be thinking, "Not this again." But fret not, Ohioans -- it appears James is still home, at least for now.