Editorial Board
Mitch McConnell's Legacy
The senate majority leader has come a long way in five years.
by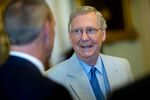 Even now, at the remove of mere days, the historic nature of last week's events in Washington is clear. Yet to be decided is what role they will play in shaping the legacy of one of the most powerful men in Washington.
That man, of course, is Senate Majority Leader Mitch McConnell.
Yes, it was also a pretty good week for President Barack Obama, whose health-care law survived a Supreme Court challenge and who was able to applaud the court's decision extending gay marriage to all 50 states (a cause he came to only lately). Obama's international trade agenda got a huge lift, too -- and that's where McConnell comes in.
The Senate passed fast-track legislation last week to ease the path for an expansive trade agreement with Pacific nations. Before victory was achieved in a 60-to-38 vote, however, congressional Republican leaders had to earn the trust not only of their own members but of a few wary Democrats, who feared that the complicated legislative maneuver McConnell engineered might drop their goal of securing trade adjustment assistance for workers hurt by a deal.
Cross-party trust has not been a hallmark of recent Congresses.  Indeed, the most salient quality of Republican leadership on Capitol Hill since 2009 has been vehement, occasionally indiscriminate opposition to the White House's agenda. The cost is everywhere apparent -- from infrastructure that goes unrepaired to carbon emissions that go unchecked.
Yet McConnell, in particular, has recently managed to rise above the dreary partisanship that drags Washington down. His legislative successes have required forging a genuine partnership with the White House and congressional Democrats.
That achievement on trade closely followed a legislative breakthrough on the Medicare "doc fix," which originated with House Speaker John Boehner and his Democratic rival Nancy Pelosi. The resulting bill, signed by Obama in April, aims for a long-term solution to a perennial problem -- how to reimburse doctors for their care of Medicare patients more efficiently. In May, in another bipartisan triumph, McConnell outsmarted archconservatives in his caucus who had sought to scuttle the White House's ability to strike a nuclear deal with Iran.
It's all a long way from the Mitch McConnell of 2010, who famously said that his top priority was to defeat Obama in 2012. By contrast, lately he has shown that partisan competition is not incompatible with bipartisan success and that conservative skepticism about government power needn't be an excuse for inaction and dysfunction.
Truculence and timidity still exist in Washington. But if there has been a change in atmosphere -- and results -- then McConnell deserves some of the credit.
--Editors: Francis Wilkinson, Michael Newman.
To contact the senior editor responsible for Bloomberg View's editorials: David Shipley at davidshipley@bloomberg.net .
Before it's here, it's on the Bloomberg Terminal.
LEARN MORE