Editorial Board
Does China's Central Bank Know What It's Doing?
As the Fed can attest, monetary policy can be hard to explain.
by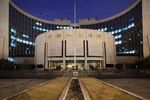 If you think the U.S. Federal Reserve has a problem communicating its intentions, spare a thought for the People's Bank of China. In the space of a few days, China's central bank has changed policy twice, and the message was largely unintelligible both times.