China Finds a New Pump to Keep Stocks Aloft
Rate cut sends a message to traders: Keep buying.
by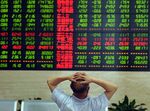 When historians write the definitive accounts of the great Chinese stock bubble of 2015, this weekend's rate move may deserve its own chapter. By cutting borrowing costs to a record low, Governor Zhou Xiaochuan told a hundred million mainland day traders to keep on buying.