Queen Shows Germans Useful Side of Monarchy
Royalty can help when elected politicians get carried away.
by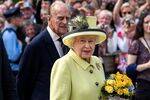 As I write this, hundreds of Germans are waiting patiently in front of the Hotel Adlon, where Queen Elizabeth II is staying. Very few people here would like to see Germany become a monarchy, but many like the British queen for the very reasons that make monarchies still viable in the 21st century.