Subsidies and All, Obamacare Stays
The program endures. Let's hope the Supreme Court's legitimacy survives too.
by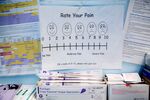 Yes, subsidies will remain available on federal exchanges. So the Supreme Court ruled today, in a 6-3 opinion written by Chief Justice John Roberts. I am not wholly surprised; it seemed plausible that the court might rule either way.