Housing Case Redefines Discrimination
Justices say it's the effect that matters, not the intent.
by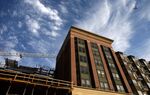 Justice Anthony Kennedy continues to surprise. The swing justice wrote an important liberal opinion, holding Thursday for a 5-4 court that the Fair Housing Act prohibits not only intentional discrimination, but also policy decisions that discriminate by having a disparate impact on minorities.