China's Latest Reform Shouldn't Be Its Last
Weak fiscal measures like looser lending will only make Beijing's problems worse.
by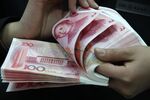 When the Chinese government proposed this week to end its decades-long policy of capped bank lending, there was good reason to be skeptical about its motives. China had just had its biggest weekly stock plunge since 2008. The new policy -- which would scrap a rule limiting bank lending to 75 percent of deposits -- seemed like the government's latest attempt to artificially sustain economic growth at 7 percent.