The Arrest Brazil Didn't See Coming
Odebrecht construction group falls from grace.
by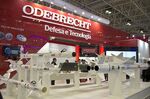 Since the beginning of the so-called Car Wash operation, a probe into graft and kickbacks at the state oil giant, Petrobras, Brazilians have grown accustomed to seeing dodgy moguls squired to jail. But Marcelo Odebrecht -- whose arrest last week Veja magazine called "The Fall of the Prince of Contractors" -- was a prize.
Wiry and bespectacled, the 46-year-old chief executive of the Odebrecht Group is the third-generation heir to a family construction dynasty with few equals in the developing world. The company's red-and-white logo flies over scaffoldings in 21 countries, as ubiquitous in Latin America as Bechtel's red and black orb and the cardinal red Halliburton banner are in Asia and the Middle East.
As the Petrobras probe widened, snaring more legacy companies, analysts had marveled -- and investors had thrilled -- that giant Odebrecht seemed to remain untainted.
Now it's clear that Sergio Moro, the federal judge in charge of the Car Wash case, was only playing chess, biding his time with smaller players as prosecutors followed the multinational's paper trail from Monaco to Panama City.
If Petrobras was the jewel on the crown of Brazilian state enterprise, Odebrecht was the talk of the private sector: founded on talent, leanly run, and with an aggressive eye for opportunities everywhere.
Much of that energy came from the young scion, a civil engineer who built oil platforms in England and earned an MBA from the International Institute for Management Development, in Switzerland. On his watch, the company ventured from pouring concrete to petrochemicals, pushing the brand into the U.S. and Europe.
And unlike most Brazilian contractors, only a sliver of Odebrecht's portfolio was tied up in government contracts, leading some boosters to reckon that the market fallout from the bust would be limited and that Odebrecht was too big to fail.
After all, Odebrecht had become practically a proxy for Brazil itself. Dams, bridges, metro stations and airports were grease on the gears of Brazil's global ambitions. When the builder wasn't paving the way for policymakers in emerging markets, it followed closely behind the diplomats with bricks and mortar.
This coupling of public and private agendas reached fever pitch under then-President Luiz Inacio Lula da Silva, who spent much of his eight years in power on a jet, touting his "south to south" geopolitical bonds. The relationship tightened after Lula stepped down in 2010, when -- court documents now reveal -- he frequently flew on Odebrecht's nickel to deliver speeches and chat up governments of client states.
Yet that proximity -- promiscuity? -- with power is what brought the giant builder under closer scrutiny in the widening scandal that has defenestrated President Dilma Rousseff's ratings, driven millions of protestors to the streets and helped push Latin America's biggest economy into recession.
A generous donor to political campaigns, Odebrecht never hid his intentions to pressure governments on policy. "It's legitimate and obligatory," he told Folha de Sao Paulo in an interview last year. He flatly denied inflating contracts or paying bribes, however, and vowed the company had never received or asked for official favors.
But his arrest shatters some cozy certainties about power and influence that are as old as Brazil and Kevlar to the rich. The abrupt drop in Brazilian markets, including hits to Odebrecht's bonds and the shares of its petrochemical arm, Braskem, and this week's decision by Moody's Investors Service to place Odebrecht's credit standing under review for "reputational damage," suggest that few in the markets saw the fall was coming.
"There was this idea of collective innocence," Mailson da Nobrega, a former finance minister, told me. "If everybody was on the take, then no one was guilty. Now that false sense of safety is gone."
The bards at the federal police, who dubbed the Odebrecht sweep Erga Omnes -- "toward all" in Latin, as in the law applies to everyone -- have had their say.
Now the Brazilian courts will have theirs.
(Corrects description of market impact in 12th paragraph of article published June 25.)
To contact the author on this story:
Mac Margolis at mmargolis14@bloomberg.net
To contact the editor on this story:
James Gibney at jgibney5@bloomberg.net
Before it's here, it's on the Bloomberg Terminal.
LEARN MORE