Republicans Will Save Obamacare
Congressional disarray will ensure law endures, whatever the justices say.
by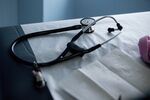 A key portion of President Barack Obama's health-care policy could fall at the U.S. Supreme Court this week. Just when Republicans are close to achieving one of their top goals, however, the party is in disarray. As a result, I'd bet that Obamacare is going to survive this challenge -- whatever the court decides -- pretty much unscathed.