One Camp's Role in the Global Refugee Crisis
Immigrants from Africa and the Middle East struggle to reach England.
by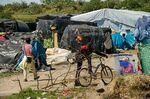 Outside Calais yesterday, police directed trucks and cars off the highway and onto a 60-mile detour across the French countryside. You could smell the burning tires that striking ferry workers had used to block the road ahead. Migrants from Calais's "Jungle" camp took advantage of the chaos to break open the doors of the stalled trucks and stow away, in the hope of making it to England.
The ferry workers are striking for fear of job cuts after the MyFerryLink company sold two of its ships to a rival. They blocked the port and forced their way into the Channel Tunnel to stop the trains from running, too. The immigrants, most of them refugees from war zones in Africa and the Middle East, are becoming more aggressive as their numbers grow and the odds of making it to Britain fade. Last week, they too had burned tires in the road, to slow trucks enough to board them.
It's hard not to notice how similarly the two groups of men respond to their frustrations.
At the moment, 3,000 to 4,000 people live in the Jungle, but it's hard to keep count, said Georges Gilles, a 62-year-old volunteer for Salam, one of two small local aid organizations that serve the camp. Newcomers are arriving at the rate of more than 100 a day, he said.
When I arrived, men were trundling carts along the lane that edges the camp, carrying the large sticks that people expertly bind together to create frames for their lean-tos. Usually, Salam finds them agricultural tarpaulins to spread over the frames, but for now they'd run out, said Gilles.
The camp is like a map of the global refugee crisis amid the grassy dunes outside Calais. People have grouped themselves broadly by country. The Sudanese are settled near a large meeting tent with "Soudan" written on the outside. Fifty meters away is a tent labeled "Eritrea" in bigger letters. In between are the charred remains of some huts, burned during a fight between the two groups a few days earlier.
A little further on, an Afghan flag flies over an area of huts occupied by Afghans and Pakistanis. Further still is an extraordinary makeshift church.

When I met Gilles's wife, Claudine, the petite figure was surrounded by a group of large African men. She had one by the lapels of his coat and was shouting: "They stole my shoes. They stole my shoes! Bring me back my shoes!" She'd brought 200 pairs of donated shoes on Monday morning, but had left them in the van unlocked. Most were gone within moments.
Until January, the immigrants outside Calais had been scattered among several camps. With no water, clean food or control, the area became dangerous -- a haven for disease and people smugglers. More and more immigrants were coming into the streets of Calais to look for food and shelter. So the mayor turned a children's holiday camp into a center where the immigrants can get showers and food. The Jungle, or Jungle 2 as some call it, is re-growing around it.
Everyone in the camp wants to get to the U.K. -- that's the only reason they're in France. Rehan Khan is an old hand. He fled Kabul, Afghanistan, at 16 and wound up in England. He applied for asylum and worked for Afghans who had made businesses in retail and construction. The state helped him with housing costs, and he found it a friendly place. Four years later, though, his application was refused. He was sent back to France and, at 24, he's back in Calais trying to climb onto trucks. "Here you sleep in the Jungle. No one helps you." 
Which is the complaint of the French, too. The British make it attractive for immigrants to come, and then seal up the borders and leave Calais to cope. The Brits say it's up to the French to police their territory, and it was their choice to join the borderless Schengen Area, making the borders of Italy and Greece their own.
Those who have money can pay the people smugglers to get them across in as little as a few days. But most are poor. It takes them months, and in some cases years, of trying. As the population has ballooned this summer, lines for dinner have grown long enough to curl around the entire camp. The average wait is now three hours.

Gilles was remarkably patient as men gathered around his van to see if he had any bread. One Eritrean -- he called himself Ephrem but, like almost everyone I talked with, declined to give his last name or be photographed -- was angry. Gilles said there would be no bread until after 9 p.m. (it's Ramadan), but Ephrem could see some in the van. "I'm Christian," he told Gilles, and grabbed a bag of pale baguettes through the door. Claudine explained that they had yet to be baked and took them back.
Gilles was tired. He's been doing this for almost five years. He's also outraged: at the French government's refusal to provide for the immigrants; at the British government's refusal to open their border and process the refugees in the U.K.; and at the absence of any big, wealthy aid organizations on the scene.
"I don't want to be friends with all these people, but I want them to have their dignity," he told me. "I don't want them to be treated like animals, as they are now."
Claudine was handing the few shoes she had left through the window of the van, and a line had already formed. A gendarme from one of the two small units assigned to watch over the Jungle watched the situation.
He said the mood at the camp has changed since his unit -- an elite squad from near Paris -- arrived in December. 
"This isn't a new problem. We've had this for years and there won't be a solution -- the politicians won't do it," he said. "Excuse my language, but nobody gives a damn."
This column does not necessarily reflect the opinion of Bloomberg View's editorial board or Bloomberg LP, its owners and investors.