Kremlin Fears a Revolution in Armenia
Protests against a corrupt Russian-owned energy monopoly won't die down in Yerevan.
by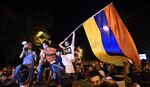 The events of the past five days in Armenia can be followed on Twitter under the hashtag #ElectricYerevan, but they aren't on the front pages of global newspapers. The world doesn't get excited about protests over an increase in electricity prices in a country of 3 million, tucked into a beautiful but resource-poor corner of South Caucasus. The demonstrations in Armenia are watched closely in Moscow and Kiev, however, because they reflect unusually intense dissatisfaction with Russian power in a post-Soviet nation that had seemed to be securely in the Kremlin's grip.
It all started last month when the country's energy monopoly, Electric Networks of Armenia, asked the government to raise electricity tariffs by 40.8 percent. The utility complained that Armenian hydroelectric plants were producing less energy, and that repairs at the country's sole nuclear power plant were taking longer than planned, causing the company to go into debt to the tune of $250 million -- a huge sum in a country with a gross domestic product of just $10 billion -- and fall out of favor with Armenian banks.
The government initially resisted, arguing that the losses had been caused by graft. The public utility regulatory commission established, for example, that ENA had been overpaying suppliers and contractors (charges that the company denies). But on June 17 the commission caved, raising tariffs by 16.7 percent starting in August to avoid outages. Two days later, activists staged the first relatively small sit-in in the center of Yerevan, Armenia's capital. Then the protests grew. Tuesday, police used water cannons to disperse the demonstrators, and arrested 250 people. About 1,000 protesters stayed through the night, though, and they were marching again Wednesday morning. 
All this would have little significance outside Armenia if ENA weren't fully owned by Inter RAO UES, a large Russian energy company whose board chairman is Igor Sechin, a close friend of President Vladimir Putin and chief executive of state oil giant Rosneft. So the protests against the company's allegedly corrupt management are, by default, anti-Moscow, if not anti-Russia.
The Kremlin is highly aware of this. "Armenia is our closest partner, we are united by historical ties with Armenia and the Armenian people," Putin's press secretary Dmitri Peskov said Tuesday. "Of course we are watching what's going on there very closely." That may sound tame, but in Armenia it was a thunderclap. "The very fact that that the Russian presidential press secretary commented on the events in Yerevan," commentator Musa Mikaelyan wrote on the news site 1in.am, "is evidence that either Russia is taking part in the events unfolding in Yerevan, or it is very worried and trying to take part, or is expressing readiness to participate if events get out of control."
Moscow's worry is that the uprising in Ukraine started in the same way: with quiet grumbling, small rallies and a singalong. Then police used excessive force, and the protests escalated so that, in less than two months, downtown Kiev was burning, and soon President Viktor Yanukovych fled to Russia. Many Ukrainians, proud of having broken Russia's hold on their country, would like to see this repeated in Yerevan. Liga.net, one of Ukraine's most popular sites, is covering the "Electric Yerevan" protests as a new "Maidan," the common name for the Kiev uprising. Ukrainian Interior Minister Arsen Avakov, an ethnic Armenian, encouraged the Yerevan demonstrators with a Facebook post recalling the romanticism of the Ukrainians' struggle. "My dear Armenia," it started. "There was a day when we were beaten up and dispersed, and our barricades were cleared from Krepostnoy Lane in Kiev. It seemed our hopes had been trampled." Yet, Avakov concluded optimistically, Ukrainians' "will for freedom" prevailed.
This support from Kiev tells Putin's allies in Moscow that what's going on in Yerevan is no mere economic protest. "I'm sure there are plenty of militants from Ukraine and there is an outside coordination center run by the same political operators who ran the Maidan in Kiev," Russian political scientist Sergei Markov wrote on Facebook. "There can be no doubt that this is no spontaneous outpouring of popular protest in Yerevan. It's all a matter of technology and the organizers' main goal is to incite bloodshed."
According to Markov, the Yerevan disturbances are the response of a sinister Western cabal to Armenia's 2013 decision to opt out of a trade and association agreement with the European Union and instead join Putin's Eurasian Union. But it's not as if Armenian President Serzh Sargsyan had much choice in that matter: Apart from its energy stranglehold on the tiny nation, Russia has a military base in its second city, Gyumri, where 5,000 soldiers serve as a warning to neighboring Azerbaijan that resuming hostilities over the disputed Nagorno-Karabakh region might not be a good idea. 
Russia has been playing both sides in that frozen conflict -- the most rarely mentioned one of the five that help Russia control its post-Soviet neighborhood -- since the early 1990s, lately using it as leverage to pull both Armenia and Azerbaijan into the Eurasian Union. Although both countries are part of the EU's Eastern Partnership program, Moscow is determined to prevent that loose association from turning into anything more meaningful. 
The balance in this region is, if anything, more delicate than it was in Ukraine at the time of Yanukovych's ouster. Perhaps this is why there's less anti-Moscow sentiment in Armenia and even in the huge Armenian diaspora, which by far exceeds the country's population. Serj Tankian, a singer with the Grammy-nominated California band System of a Down, has been posting on Facebook about the electricity demonstrations, but even though he's clearly sympathetic toward the protesters and would like Armenia to nationalize "monopolistic foreign-owned utility companies," he has studiously avoided making anti-Putin remarks.
So #ElectricYerevan is no Ukrainian-style revolution yet, and it's not likely to turn into one. Yet it gives Putin's paranoid regime another reason to rattle its weapons. It would have done better to deal with corruption inside the companies it uses to exert influence in its former empire. Moscow is unable to do that, however, because corruption is one of its main exports. It can only fight the symptoms, which often include popular discontent, as though they were part of a global conspiracy.
This column does not necessarily reflect the opinion of Bloomberg View's editorial board or Bloomberg LP, its owners and investors.