Insurance May Not Save Lives, But It Saves Money
Think of medical coverage as a financial product, not a tool for public health.
by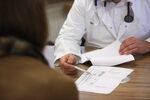 Five years ago, just as Congress was preparing to pass Obamacare, I wrote a piece for The Atlantic that triggered an immense amount of displeasure. An advocate had pronounced that "hundreds of thousands" of people would die if the law did not pass, because they would remain uninsured. I pointed out that we didn't actually know how many lives would be saved by an expansion of health coverage. In fact, given the data we did have, we could not rule out the possibility that more coverage would have no effect on health whatsoever.