Declassified
Clinton Defense Chief: Iran Deal Could Spark Proliferation
Mideast powers don't trust U.S. or Iran, so will arm themselves, William Cohen says.
by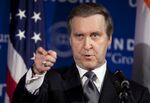 Gulf Arab powers are likely to respond to President Barack Obama's pending nuclear deal with Iran by developing their own nuclear programs, former Defense Secretary William Cohen said Wednesday. He said they don't trust either the Iranians or the United States to protect their interests.
"The administration's intent was to have a counter-proliferation program. And the irony is, it may be just the opposite," he told a meeting of Bloomberg reporters Wednesday morning.
As Secretary of State John Kerry prepares to meet Iranian leaders for the final push toward a comprehensive nuclear deal with Iran, there's growing angst in countries like Saudi Arabia, the United Arab Emirates, Qatar and Israel about the deal, which will leave Iran with significant uranium enrichment capabilities and may not give the international community the right to inspect all of Iran's nuclear facilities.
The administration argues that a deal with Iran will remove the need for other regional powers to pursue their own nuclear enrichment and weapons programs. Cohen said the region doesn't see it that way.
"Once you say they are allowed to enrich, the game is pretty much up in terms of how do you sustain an inspection regime in a country that has carried on secret programs for 17 years and is still determined to maintain as much of that secrecy as possible," said Cohen, who was a Republican lawmaker from Maine before serving under President Clinton from 1997 to 2001.
Other regional powers are further skeptical of the international community's ability to enforce any deal with Iran because the Obama administration has lost credibility in the region, according to Cohen. He said America's relationships in the region were damaged in 2013, when President Obama backed away from striking Syria after telling Gulf allies he would do so, even though the Assad regime had crossed his "red line" on chemical weapons. 
"It was mishandled and everybody in the region saw how it was handled. And I think it shook their confidence in the administration. … The Saudis, the UAE and the Israelis were all concerned about that," Cohen said. "They are looking at what we say, what we do, and what we fail to do, and they make their judgments. In the Middle East now, they are making different calculations."
Cohen acknowledged that without a nuclear deal, Iran could have the ability to expand its nuclear activities with no restrictions, leading to an even more dangerous situation for the U.S. and the region. He doesn't agree with some lawmakers, such as Senator Tom Cotton, who argue that a military strike on Iran's nuclear facilities could be a solution.
Cohen said that if a deal is reached, there will be significant international momentum for implementing the deal and lifting sanctions against Iran. The drive to do business in Iran will be alluring, especially to European countries, who have been eager to return to Iran but have been held back by the U.S.-led sanctions. Iranian officials have said that if the U.S. is the only country left with sanctions on Iran, that would amount to America sanctioning itself.
"I anticipate this deal will be done. I think Congress is going to be hard-pressed to reject it," said Cohen. "Congress, the only chance it has to influence it is now, before it's signed."
Cohen disagrees with those who believe that a nuclear deal will mollify Iran. He is skeptical that giving Iran large economic benefits will lead to significant reform in the Islamic Republic.
"Most people that I know believe that Iran will continue to be a revolutionary country, and that's what bothers all of the others in the region, that this is going to continue the expansion of power, that they will be at a disadvantage, and they can't count on the United States," he said.
Overall, countries in the Middle East have lost confidence in the Obama administration, Cohen said, in part because the U.S. has failed to articulate a clear vision for America's role in the world in the 21st century. That may not be resolved in the remainder of this administration.
"There's a lot of worry about U.S. leadership and what we'll do next. You couple that with the Iran situation, and you could see there's a lot of nervousness now about where we are," he said. "That's something the next president will have to deal with."
To contact the editor responsible for this story:
Philip Gray at philipgray@bloomberg.net
Before it's here, it's on the Bloomberg Terminal.
LEARN MORE