view
Bobby Jindal's 2016 Bid Makes Sense
Not a lot separates him from the Republican front-runners.
by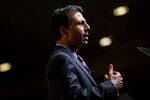 Louisiana Governor Bobby Jindal is officially announcing his presidential candidacy Wednesday. The only sensible question is: Why?
After all, Jindal doesn't seem likely to qualify for the early Republican debates, which begin Aug. 6 on Fox News. He's currently ranked a woeful 15th in the Republican field, according to HuffPost Pollster's estimated polling average, and he hasn't had anything in his campaign go right in a long time. Jindal has no impressive endorsements to indicate party enthusiasm that might translate later into voter support.
On top of this, Jindal is actually running for the presidency. This is neither an attempt to nudge the Republican Party in his direction (think Ron Paul in 2008 and 2012) nor a bid to win a talk-radio program or improve the ratings for a reality TV show.
While we can never get inside a politician's head (Ed Kilgore gives it a good try today), the most likely explanation is that Jindal -- like Chris Christie, who is apparently moving ahead with his own effort -- has correctly assessed that the Republican front-runners are weak enough that a long shot could win the nomination.
And Jindal is a plausible nominee on paper. He has conventional credentials and is within the mainstream of his party on the issues.
He may see that his status as a candidate no one supports isn't very far from the position of first-tier candidates Jeb Bush, Marco Rubio and Scott Walker. Each has had a bit of momentum sometime over the last eight months, yet all lack the declarations of support from high-profile party actors that indicate real progress toward winning the nomination.
Meanwhile, the other long shots aren't stepping up. Governor Mike Pence of Indiana has dropped out. Ohio Governor John Kasich seems to be making more enemies than supporters. Former Arkansas Governor Mike Huckabee still hasn't expanded his support beyond religious conservatives, and he has to share those with several other contenders. Rick Perry, Rick Santorum, Christie: Not one is doing much better than Jindal.
If it's true that almost any candidate can have a public-opinion surge, Jindal is better positioned than most of his rivals to take advantage of one. He has no policy conflicts with any of the important groups in the party. There are no scandal-producing stories to scare off those who care most about winning in November 2016. His basic political reputation remains fairly solid.
The only thing missing is ... supporters. Granted, this will be a fatal flaw at some point down the road. But as long as so many important Republicans remain undecided, you can't blame Jindal for sticking around for a while.
To contact the author on this story:
Jonathan Bernstein at jbernstein62@bloomberg.net
To contact the editor on this story:
Katy Roberts at kroberts29@bloomberg.net
Before it's here, it's on the Bloomberg Terminal.
LEARN MORE