A Losing Coach Russia Can't Afford to Lose
The soccer federation needs $24 million to buy him out.
by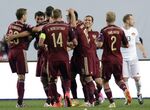 For a coach whose team can lose to pretty much anyone, Fabio Capello is remarkably expensive. The manager of the Russian national soccer team is a living reminder of everything that has gone wrong in Russia in the last three years.