The IMF Bows to Putin in Ukraine
When it comes to sovereign debt negotiations, might makes right.
by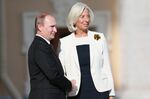 Notions of justice and morality rarely apply to debt restructuring negotiations. Most parties want to get the best result that everyone can accept and move on. Nonetheless, what's going on with Ukraine's debt is disturbing.