Heeding the Pope's Real Warning
He's diagnosed a problem much larger than even climate change.
by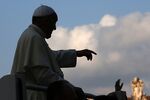 Religious traditions have never before seemed more prone to abuse by demagogues and authoritarians. The depredations of Islamic fundamentalists are all-too-familiar. The rhetoric and actions of Jewish millenarians in Israel, Orthodox Christians in Russia, Hindu fanatics in India, and Protestant fundamentalists in America reveal a broader spectacle of hatred and greed.