Picking the Right Words to Ban From Campus
But there is the risk of veering into thought-police territory.
by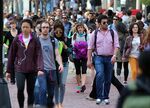 In recent months, universities have turned their attention to an important problem that should be included in our national effort to examine and root out bigotry. They have identified, and attempted to reduce, "microaggressions" -- words or behavior that might stigmatize or humiliate women or members of minority groups, with particular emphasis on African-Americans, disabled people, and gays and lesbians. The effort has admirable goals, but there is a risk that schools will overshoot the mark.