Confederate Flags and the Citizens United Effect
What if South Carolina told corporations to butt out?
by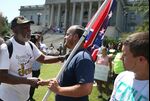 After the Charleston massacre, heads of companies from Apple to Salesforce.com to Airbnb have called for the retiring of the Confederate battle flag that now flies over a memorial near the South Carolina state capitol. I think that's grand. The flag is doomed, and I'll be as delighted as anyone when it's lowered for the final time. Yet this flurry of activity sparks a subversive thought: Suppose a South Carolina law prohibited corporations doing business in the state from challenging the flag. Would the law be unconstitutional?