Pete Rose Gets Even Harder to Defend
Proof that he bet as a player comes at a terrible time.
by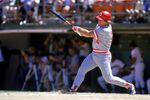 ESPN's "Outside the Lines" has obtained a notebook that indicates Pete Rose bet on baseball while he was a player, including on the Cincinnati Reds while he was a member of the team. This could dash any slim hope he had for reinstatement to Major League Baseball, the first step toward his being inducted into the Hall of Fame.