Justices Put Check on Police in Ferguson Era
What is excessive force? The public, not the officers, will decide.
by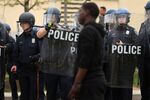 What determines whether the police have used excessive force on a detainee: the officers' beliefs about their own actions or the assessment of a reasonable observer? It's hard to imagine a more important question after the events of the past year in Ferguson, North Charleston and Staten Island -- and on Monday the U.S. Supreme Court held in favor of the objective observer, not the subjective mindset of the officers.