If Greece Defaults, Europe's Taxpayers Lose
They're on the hook for more than 300 billion euros.
by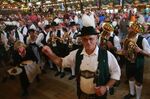 The European creditors embroiled in a last-ditch effort to come to terms with Greece face a dilemma: If they can't prevent a default, their taxpayers stand to lose a lot of money.
QuickTake Greece's Fiscal Odyseey
Ever since the region's sovereign-debt crisis first flared in 2010, European nations have been stepping in for Greece's private creditors -- largely German and French banks -- by lending the country the money to pay them off. Thanks to this bailout, banks and investors have much less at stake than before. Here, for example, are the exposures of countries' banks to Greece's government, companies and financial institutions at the end of 2014, compared to the end of 2009:

On the flip side, European governments -- and Germany in particular -- have become the largest holders of Greece's 313 billion euros in sovereign debt, through an alphabet soup of entities that are ultimately backed by taxpayers. Beyond that, as of April, the European Central Bank had lent the Bank of Greece about 115 billion euros to replace money being pulled out of the country -- credit that can turn into losses for the ECB's remaining shareholders if Greece leaves the euro.
Here's a breakdown of those exposures by country:

The lesson is that in a sovereign debt crisis, dithering can be costly. If European countries had pushed Greece to restructure its private debts back in 2010 (instead of waiting until 2012) and recapitalized banks that were in too deep, the whole region probably could have come out of the crisis much more quickly. As it stands, five years later, Greece and its creditors are back at the negotiating table, with more than 300 billion euros in taxpayer money hanging in the balance.