How Rich Are the Rich?
A new report shows the top is pulling away from everyone else.
by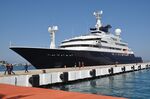 The new "World Wealth Report" for 2015 was released last week from Capgemini and RBC Wealth Management. The focus is on the population of high-net-worth individuals, or HNWIs as the report calls them. The report, based on a survey of more than 5,100 wealthy people in 23 major markets, is packed with fascinating data and graphics.