Germany Should Buy Hitler's Artwork
Show them to the public rather then let Nazi memorabilia collectors have them.
by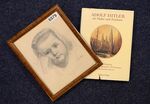 On Saturday, 14 works by Adolf Hitler fetched $446,000 at auction in Nuremberg, where the artist once made grandiloquent speeches about national art (and much else). The amount is considerable given Hitler's modest achievements as a painter.
One could view the pictures as memorabilia rather than art as such, and consider the buyers to be guilty of bad taste, if not worse. But I would argue that Germany needs to hunt down as many of these works as possible and exhibit them to the public. Looking at them, and recalling their history, helps understand what happened to Germany, and the world, in the 1930s and 1940s.
It's customary for Hitler's artwork to be dismissed as inept (he was twice rejected by the Vienna Academy of Fine Arts). He was bad at rendering people, but he was fascinated with buildings, and at the second rejection, he was  told to try his hand at architecture. Hitler proceeded  to teach himself architectural drawing, and when he drew or painted buildings, he would often take liberties with their proportions and elements of decor.
Hitler had some talent, and he was hungry, so he tried hard. In Vienna, he sold his work on the street and through a frame shop owned by Samuel Morgenstern (later expropriated by the Nazis). After arriving in Munich in 1913, he even began getting commissions from wealthy patrons. He painted a flower still life for the presiding judge of the Bavarian Supreme Court (and was asked to alter the colors to match the furniture in the judge's living room). A pharmacist commissioned a series of five watercolors for 20 marks each (about $115 today).
"Hitler the painter was hence no dilettante but a professional artist on the lowest level: without training, without colleagues, without dealers, without shows, with no artists' group to join, yet steadily at work and on the market and with a minimal but rising income," German art historian Otto Karl Werckmeister wrote in a 1997 essay. Aruguably, that made him more successful than Vincent van Gogh, who sold only a handful of his paintings -- some say just one -- during his lifetime.
"I paint that which the people want to buy," Hitler once told an acquaintance.
As a young man, he would draw towering neoclassical buildings that nobody was going to build and fume about the "cubist grimaces" of Bolshevism that should never be allowed to distort Germany's face. His was a visual world: Whatever one might think of his artwork, it was better than his helpless, illogical, windy writing. He made his clearest statement through design -- the swastika flag, which he drew in 1920.
Stunted by rejections and the demeaning necessity of working for peanuts (the Jews, of course, were to blame), Hitler was looking for a bigger canvas, or perhaps a real construction site. Political power gave him one. Baldur von Schirach, leader of the Hitler Youth, wrote in the preface to a 1937 book of the fuehrer's early work: 
A truly great German is unthinkable without artistic traits; of the men who in the course of the centuries were able to shape the destiny of our nation, Adolf Hitler is not only a unique political phenomenon. He is both the first leader and the first artist of our Reich. 
As dictator, Hitler meddled in all major architectural projects. He amassed an enormous art collection and purged "degenerate" art from German museums. I may be reading too much into his watercolors of idealized buildings -- the gingerbread representation of the Neuschwanstein in Bavaria that fetched 100,000 euros Saturday, the not-quite-true-to-life depictions of Viennese churches -- but the seeds of his future exploits seem to be visible. That may be why the Weidler auction house, which organized the sale, presented the watercolors and drawings as "historical documents." If anything, they are documents of brooding frustration.
The collectors who bought the works were, according to the Nuremberg auction house, non-German: from as far away as China and Brazil. I wouldn't be surprised if these afficionados decorated their walls with Nazi banners and showed their guests around collections of World War II-era guns and uniforms.
They are not the right owners for Hitler's art. The German government would be. It makes sense to show people where Hitler's vision originated, what failures and humiliations led an untrained but conscientious draughtsman to barroom politics and then to pan-European hegemony.
Now, the Bavarian state will only accept Hitler's work as gifts so it can hide them. Germany should get the paintings and drawings out of private hands. These pieces are not that expensive, but prices will inevitably rise, making them more desirable.
I suspect that if the government were to put a few hundred of these works in an exhibition space, with annotations, other documents of the era and bits of Hitler's writings, it would create an impression of such anguish and, at the same time, such sad banality that visitors would gain a stronger understanding of the evil Hitler came to embody. If his world was primarily visual, it's easiest to glimpse into its depths through these images.
To contact the author on this story:
Leonid Bershidsky at lbershidsky@bloomberg.net
To contact the editor on this story:
Max Berley at mberley@bloomberg.net
Before it's here, it's on the Bloomberg Terminal.
LEARN MORE