view
Modi's Window for Reform Is Closing
India's halting efforts at economic reform have been hit by scandal.
by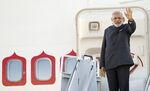 The window of opportunity for Indian Prime Minister Narendra Modi to press for serious economic reform seems to be closing. A little over a year after taking office, Modi's government has been caught up in its first big political scandal.
Critics say Foreign Minister Sushma Swaraj abused her position to help Lalit Modi, a businessman and former head of the Indian Premier League (a cricket tournament) who's been accused of corruption. Modi, no relation of the prime minister, has long denied wrongdoing; he now lives in London. Swaraj helped him secure travel documents.
Ministers and officials of the ruling Bharatiya Janata Party were fielded in Swaraj's defense. Rarely has the government backed any of its economic-reform measures with that kind of commitment. It's discouraging: The sheen of the BJP's emphatic victory is wearing off, and the government is spending its diminished stock of capital on managing a scandal, not the economy.
It should have spent much of the past week hard-selling two small but important economic-policy measures. Properly executed, they could give a meaningful boost to investment, growth and jobs -- Modi's real mandate.
The first is a fresh approach to dealing with bad loans on the books of India's banks -- one of the obstacles to more investment. The central bank has given banks new guidance. It wants them to convert non-performing loans into equity stakes in the borrowers and, in cooperation with other lenders, appoint new management. Because of India's outdated bankruptcy laws and vested interests holding sway over the public-sector banks, bad loans tend to linger under the guise of restructuring. There's no change of control or business strategy. The new policy aims to put that right.
It's a good idea but its success hinges on Modi's government. Most loans are still issued by government-owned banks. They will need permission and political backing to weed out the bad managers. The question is, will they get it?
The second reform concerns India's notoriously complex labor laws. The government wants to amend them so that firms can make greater use of fixed-term contracts. This could make a big difference. Indian businessmen are extremely cautious about openly hiring more workers because laying them off, should the need arise, is so difficult. Instead, they hire informally -- and the workers get none of the protections granted to formal hires. The change, if implemented, would let many of those workers join the formal workforce. They wouldn't be promised permanent employment, but they'd get social security and other benefits.
Again, though, the reform is bound to meet opposition. It won't get anywhere without an expenditure of political capital. How much does Modi's government have left to spend?
Modi has wasted his first year in office. He has pushed through piecemeal reforms, but they don't add up to much yet. His defenders would say it's deliberate: "Creative incrementalism" is his watchword. That's all very well, provided the effort can be sustained year after year. With the prime minister's political power dwindling, that looks less likely. The danger now is that his program will fizzle out before it even got started. 
To contact the author on this story:
Dhiraj Nayyar at dhiraj.nayyar@gmail.com
To contact the editor on this story:
Clive Crook at ccrook5@bloomberg.net
Before it's here, it's on the Bloomberg Terminal.
LEARN MORE