The Christian Case Against the Confederate Flag
It's not about conceding defeat. It's about kindness.
by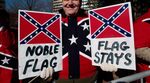 The slaughter at Emanuel African Methodist Episcopal Church in Charleston, South Carolina, has reignited the debate over the state's flying of the Confederate battle flag on the grounds of the capitol. It's an old debate, but this tragedy offers a new way to look at it -- through the lens of Christian values.