EU Leaders Need an Emergency Plan B for Greece
Meeting should focus on preparing for the worst.
by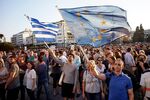 After finance officials failed to reach an agreement on Greece on Thursday, European leaders wisely decided to hold an emergency summit Monday. Although the main objective is to break the deadlock opposing Greece and its creditors, this gathering should have a second important goal: unifying 18 euro-zone members around a Plan B if efforts to salvage the 19th member, Greece, falter again.