Death Penalty Splits the Court
Anthony Kennedy's inconsistency shows us exactly where we stand.
by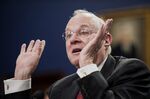 The Supreme Court reversed one death penalty sentence Thursday while upholding another. Both decisions were 5-4, and eight of the justices voted consistently in the two cases, either for capital punishment or against it. The swing voter, in the majority both times, was -- you guessed it -- Justice Anthony Kennedy. The result is a continuation of the court's positively contradictory death jurisprudence -- which reflects, come to think of it, our collective national inconsistency on the topic.