Brazil's All Business With Its Bad Neighbors
Venezuela's infrastructure projects matter more to Brazil than its political prisoners.
by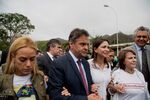 When a group of senior Brazilian lawmakers deplaned Thursday in Caracas to a wall of hostile, stick-throwing protesters chanting odes to the late Hugo Chavez, they did what any sensible foreign officials might do: Cancel the trip and demand a sharp diplomatic rebuke.
"I hope the Brazilian government condemns these barbarous and irrational acts, and stops coddling Venezuela," Aloysio Nunes Ferreira, president of the Senate Foreign Relations Committee, and one of the besieged, told me.
Good luck with that.
Brazil's foreign ministry duly called the aggression against the legislators -- who had intended to visit jailed opponents of the Venezuelan regime -- "unacceptable" and asked President Nicolas Maduro for "explanations."
But don't expect President Dilma Rousseff to recall her ambassador. Latin America's biggest nation has long played a complicated game with its testiest neighbors, tiptoeing when they trample liberties at home -- a tendency that once provoked former Mexican foreign minister Jorge Castaneda to call Brazil "a giant that acts like a diplomatic dwarf."
The fact is, Brazil has long looked to its hemisphere as a community not just of allies but clients. With world-beating builders like Odebrecht, Andrade Gutierrez and Camargo Correa, it has made a bundle selling big-ticket infrastructure -- a hydroelectric dam in Ecuador, a cross-country highway in Bolivia, a deepwater port in Cuba -- across the developing world.
Brazilian engineers are as ubiquitous in the Americas as the country's flying campaign strategists. Venezuela alone has parlayed that neighborly largesse into dozens of projects, including a new metro line and an overhaul at the international airport.
Whether Brazilians are better off for these deals is another story. For one thing, Venezuela's gathering economic disarray has led Maduro to stiff overseas contractors. For another, the Brazilian taxpayer foots the bill for the generous, even lavish, terms of project financing often bundled into big foreign infrastructure deals. Brazil's national development bank, known by its Portuguese acronym, BNDES, has loaned nearly $12 billion abroad since 2007.
And because the BNDES gives loans at father-to-son rates, and under terms that have been less than transparent, the whole practice of bankrolling foreign oeuvres has come under increasing scrutiny. (In a separate development, top executives at Odebrecht and Andrade Gutierrez were among those detained Friday as part of the widening probe into inflated contracts at Petrobras.) Recently, the Supreme Court ordered the bank to unseal its books, where national auditors have found some anomalies. To name just one: Many soft loans have gone to companies run by Brazilian billionaires, who happened to be major donors to Rousseff's 2014 presidential campaign.
The government defends its neighborly lending on the argument that foreign deals reap domestic jobs and returns for Brazilian companies. Sergio Lazzarini, who teaches at Insper, a Sao Paulo business school, isn't so sure.
Many of the jobs and services bankrolled by the Brazilian government are generated abroad, he says. "The government bank needs to prove that the benefits compensate the considerable subsidies offered by the treasury," he told me. "There could be more productive alternatives for using this money."
In a recent study, he found that Brazilian taxpayers shell out as much for soft loans to big companies ($8 billion) every year as the country spends on its headline poverty-busting program, Bolsa Familia.
Another problem is that the BNDES lends money on the cheap but finances its loans dearly, on the international market. The Brazilian treasury picks up the difference, to the tune of about $352 million a year on foreign contracts, Lazzarini found.
The two biggest foreign benefactors of Brazilian easy money: the Dominican Republic and Venezuela.
But the beat of the pile drivers goes on. In early June, former Brazilian President Luiz Inacio Lula da Silva, Rousseff's political mentor, warmly greeted Venezuelan strongman Diosdado Cabello, head of his country's National Assembly, on a recent visit to Sao Paulo. No matter that Cabello had earlier been named by U.S. investigators as a suspect in a global drug trafficking ring.
A client is still a client.
This column does not necessarily reflect the opinion of Bloomberg View's editorial board or Bloomberg LP, its owners and investors.