Waterloo Shows Why the Brits Need Europe
Today's U.K. has to work with its neighbors, too.
by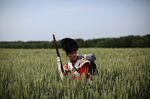 Thursday marks the 200th anniversary of Waterloo. It was a fascinating battle not just because it meant the end of Napoleon Bonaparte, but also because no single nation won it. It also has something useful to say as the U.K. draws lines of engagement ahead of a referendum on whether or not to leave the European Union.