Thomas's Vote Speaks Volumes in License Plate Case
Texas can ban Confederate battle flag from custom tags.
by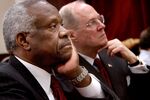 When was the last time Justice Clarence Thomas provided the decisive fifth vote to the U.S. Supreme Court's four liberals -- to decide against free speech? I can't think of one, but that's what happened Thursday in the court's decision in Walker v. Sons of Confederate Veterans, better known as the Texas license plate case.