The Flash-Crash Trader's Kafkaesque Nightmare
Is Navinder Singh Sarao being scapegoated?
by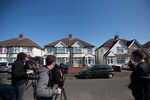 How do you prove you don't have $35 million of ill-gotten gains parked in an offshore account? That's the dilemma facing Navinder Singh Sarao, known variously as the "Flash-Crash Trader" and the "Hound of Hounslow" and currently residing at Her Majesty's pleasure in London's Wandsworth prison.