Editorial Board
Pope Francis's Call for Climate Action
The Vatican suggests a moral response to global warming.
by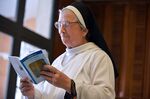 Among the speakers at a Vatican news conference on Thursday were an African cardinal, a Greek Orthodox theologian and an atheist climate scientist from Germany.
The small-c catholic gathering was to announce the release of Pope Francis's encyclical on the environment. Climate change, the pope warns, is a challenge that transcends common human boundaries. Confronting it will require an unusual unity among secular and sacred.
The encyclical -- a collaboration of economists, climate scientists and Vatican officialdom -- was intended to influence upcoming United Nations climate talks. It is already roiling U.S. politics. And it may yet sway substantial public opinion, among the world's Catholics and beyond.
The document offers a synthesis of secular research and religious principle. It affirms the basic scientific consensus that the Earth is warming and that human activity is largely to blame. And it asserts a moral responsibility to understand and respond to that dynamic.
In doing so, it extends a long tradition of Catholic social thought that holds that economic advancement, without prudent constraints, can have destructive side effects, from exploitative labor conditions to social upheaval to environmental ruin.
Francis's contribution emphasizes the last concern, especially what he calls "the intimate relationship between the poor and the fragility of the planet."

It's a forceful reminder that the consequences of a warming climate will fall most heavily those least able to cope. It challenges Christians to place care for the environment at the center of their faith. And it offers a call to conscience for richer countries that bear the most responsibility for polluting the atmosphere.
"Particular appreciation," he writes, "is owed to those who tirelessly seek to resolve the tragic effects of environmental degradation on the lives of the world's poorest."
What might a moral response to such a call look like? For rich countries, credibly committing to further restrict their own emissions would be a start. The pope might pray for widespread enlightenment on carbon taxes. There are worthwhile aid initiatives to help poorer countries adapt, such as the Green Climate Fund. But a more creative spirit is also called for: Devising clever ways to attract investment for green-energy projects in poorer countries, for instance, should become a higher priority for the private and public sectors alike.
None of these is an earth-shattering revelation, and none by itself will be an earth-cooling development. But sometimes sensible solutions require moral urgency before they become reality. Pope Francis -- as one of the world's most popular leaders, among the spiritual and otherwise -- is especially well equipped to supply it. His voice is a welcome one.