Fans Love Women's Soccer. They Don't Love FIFA.
There's no shame in watching the tournament.
by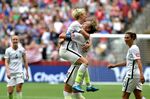 The Women's World Cup is in full swing in Canada -- Team USA won Group D and advanced to the elimination round with a 1-0 victory over Nigeria. Moreover, ratings in the U.S. have been strong. Tuesday's match garnered 5 million viewers, making it the third-most-watched women's soccer match in history. That's good news to those of us who think women's soccer -- and women's sports in general -- tend to get the short shrift from fans, media and sponsors. But that's not so good for those erroneously conflating women's soccer with scandal-laden FIFA.