'Play Ball' Will Not Heal Charleston
Minor-league ball club makes a major mistake.
by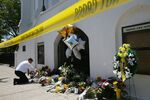 The city of Charleston has only begun to mourn, and understandably, baseball is the furthest thing from people's minds. Yet after the shooting in a black church that left nine dead and is being investigated as a hate crime, baseball will go on in the Holy City.